Cookin' Men 2019…. 3rd place cheesecake! YUM!
Costa Rica Mission Trip January 2019
The Wesley Players performed "The Littlest Angel" in December 2018
Cookin' Men 2018
First--Second--Third place winners
TRUNK or TREAT —October 2018
2018 VBS ---We had a blast being Shipwrecked!
IT'S COOL IN THE FURNACE-- April 2018
Easter Egg Hunt 2018
Another great year for an egg hunt! Thank you for bringing your children to the Egg Hunt! We look forward to seeing you all next year!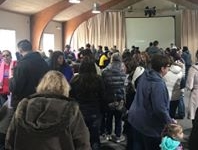 Vacation Bible School 2017